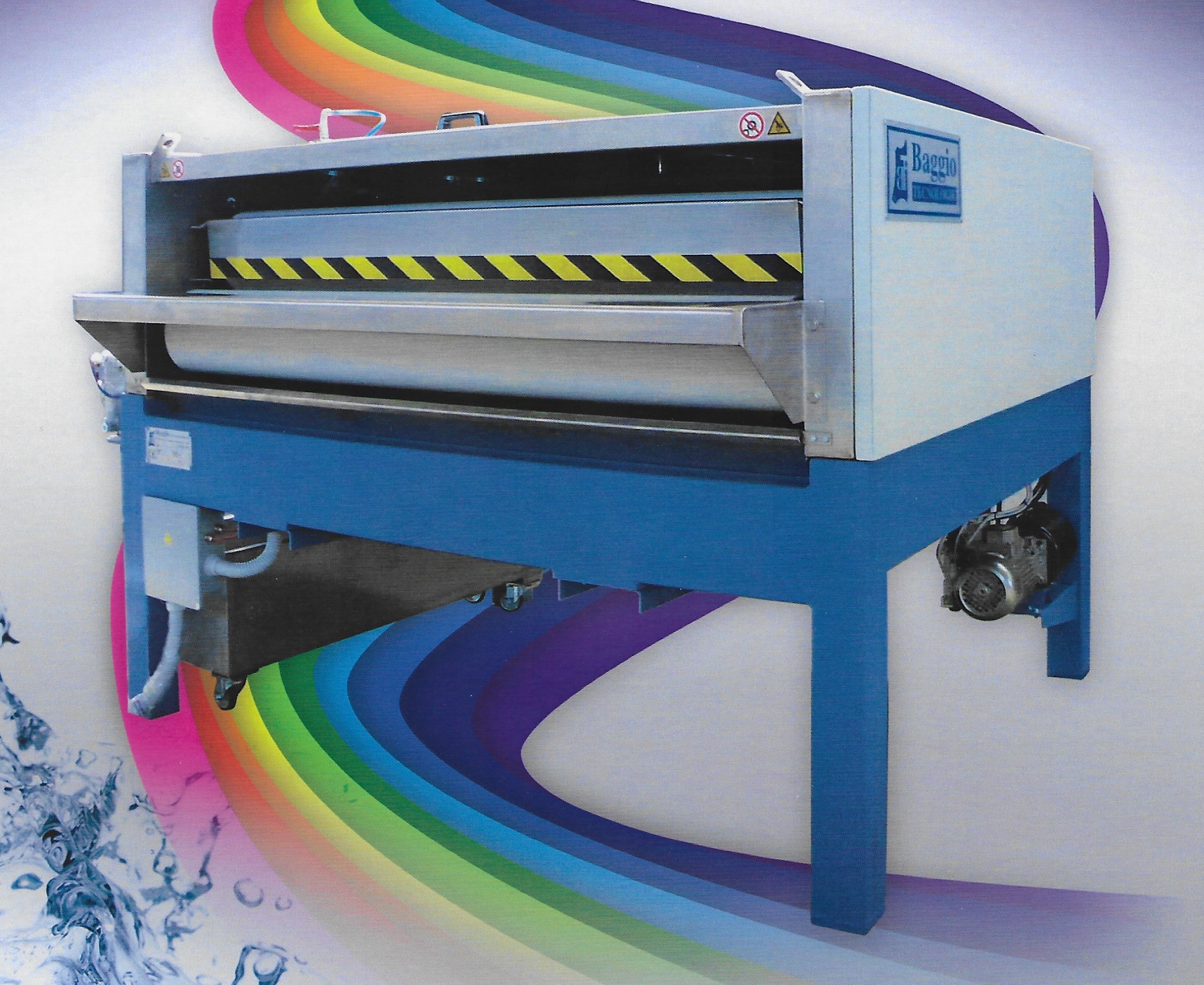 Machine for the continuous dyeing by immersion for tanned hides. This system, widely tested, is now used in the dyeing of "CRUST" leathers. Current dyes allow to obtain dyes with minimal costs and extremely reduced times.
The close collaboration with chemical industries operating in the sector and the numerous experiments carried out at tanneries and finishing industries have allowed to create an ideal equipment for this dyeing system.
A rational crease-free squeezing and the closed circuit of the dye allow to operate in the best conditions of use. The PATENTED construction of this equipment allows the dyeing of the hides with a residual dye quantity 8-10 times less than the best machines on the market and with particular arrangements it is also possible to totally avoid storage or reduce it considerably.
It is well known that many dyes deteriorate over time and consequently the absence of residual stocks turns into a significant economic and space advantage. The process does not contemplate violent mechanical action.
The quality of the structurally weak "CRUST" is protected and enhanced.
Stainless steel construction
Automatic speed compensation
Automatic belt centering
Safe warm system
Easy washing system
Crease-free squeezing system
Touch screen management system OPTIONAL
Introduction spreading system OPTIONAL
ECOLOGICAL: FOR THE COMPLETE ABSENCE OF DISCHARGE, THAT NEEDS PURIFICATION; THE WASHING MATERIAL CAN BE RECOVERED FOR A SUBSEQUENT WASH FOR MANY MONTHS.
| | | | |
| --- | --- | --- | --- |
| TECHNICAL DATA | MOD | MOD | MOD |
| | 150 | 240 | 340 |
| Working width | 1500 mm | 2400 mm | 3400 mm |
| Total width | 2350 mm | 3250 mm | 4250 mm |
| Total length | 2150 mm | 2150 mm | 2150 mm |
| Total height | 1550 mm | 1550v mm | 1550 mm |
| Power to install | 23 kW | 23 kW | 23 kW |
| Tank | 150 L | 150 L | 150 L |
| Regolabile | 0÷12 m/1' | 0÷12 m/1' | 0÷12 m/1' |
| Residual dye | 7÷9 L | 10÷14 L | 14÷18 L |
| Machine weight | 1250 kg | 1550 kg | 1850 kg |